Parts List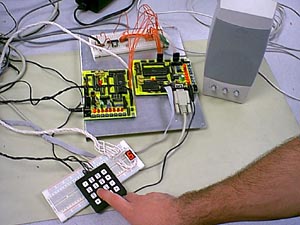 What we bought:

CUI Stack Circular DIN Connector

	Right Angle Front Shielded Recepticle
	CP-7050-ND
	0.90 x 1

CUI Stack Audio Connector

	Stereo Audio Jack
	CP-3544-ND
	1.00 x 2

Keystone Electronics
	4 AA Battery Pack
	182K-ND
	4.99 x 1

National Semiconductor
	8-bit A/D convertor
	ADC0804LCN-ND
	4.10 x 1

National Semiconductor
	8-bit D/A convertor
	DAC0808LCM-ND
	2.56 x 1

National Semiconductor
	Op Amp
	LF351M-ND
	1.05 x 1

National Semiconductor
	OptoIsolator
	HCPL2601QT-ND
	1.73 x 1

Toshiba
	SRAM
	1,048,576 bit, word addressable
	TC55V1001AF-85-ND
	6.00 x 1

Hindsight is always 20/20!
After the dust had settled:

The SRAM we bought was surface mount (BIG mistake), and it ended up being easier to simply use the SRAM Prof. Land already had. (32K)
We bought the wrong optoisolator. We needed a current-controlled one, and bought a voltage controlled one. It was straightforward to make the necessary circuit modifications.
The A/D worked as expected.
The DAC was surface mount. dammit! don't ever buy surface mount. The dac was approximately the size of a pillbug. Yay. We ended up giving up trying to solder to it and bought a new, larger one.
We never ended up using the battery pack. Simpler to use the external power supply.
All interface jacks were used as expected.