Each ISREVER piece has a black side and a white side. On one players turn, he must place one piece on the board with your color facing up. He must place the piece so that an opponent's piece, or a row of opponent's pieces, is flanked by his pieces. All of the opponent's pieces between your pieces are then turned over to become the current players' color.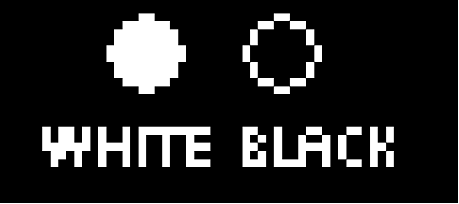 For example, suppose a player is white, and there is a row of black pieces with one white piece on its end. A player can place a white piece on the other end of the black row and capture all the white pieces between his old piece and his new piece.




The object of the game is to own more pieces than the opponent when the game is over. The game is over when neither player has a move. Usually, this means the board is full.

A player can capture vertical, horizontal, and diagonal rows of pieces and more than one row at once. In the picture below, if white places a piece where the red arrow is pointing, then all the black pieces in the three rows indicated by red lines will be captured.


The board starts with two pieces for each player and a player can place a piece only if he can capture at least a piece from the other player. If no such move is available the player has to pass. Below are shown the board at the beginning of a game and then the board during a game. It is white's turn and in red are shown all white's options to play and the black pieces it would capture in each of the places he could play.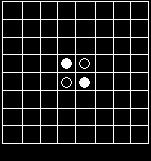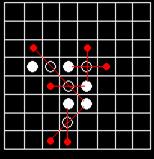 To allow the players to place a piece, we have a cursor that they can move up and down using a Sega Genesis controller.