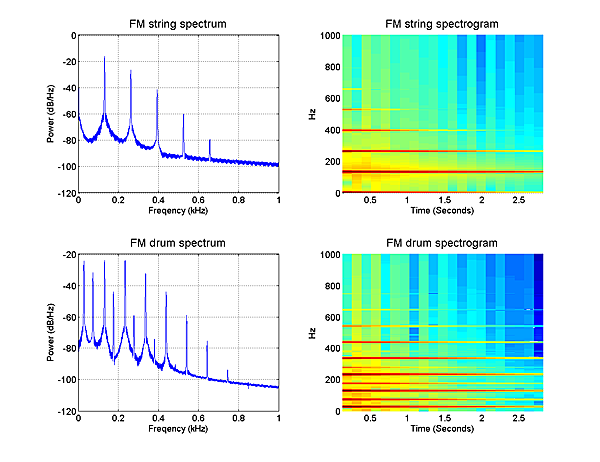 Code
WINAVR GCC program. (Circuit Cellar version)
For Markov music box running on atmega644 or atmega1284 at 16 MHz.
Pin B.3 is the PWM output connected through a 10,000 radian/sec
lowpass filter to amplified speakers. Port C is hooked to 8 pushbuttons
which control transition matrix, tempo, beat pattern, and timbre
for each voice.
Published in Circuit Cellar Magazine, #272, pp 28-32, March 2013
(Manuscript)
See also AVR DSP page for more details on algorithms
http://people.ece.cornell.edu/land/courses/ece4760/Math/avrDSP.htm

Synth Examples
Two voices, various timbres, tempos.

New code version
An improved version of the code:
Indicates parameter setting on LEDs: When you push a button, the new value of the parameter is displayed as a count on LEDs.
The LEDs are wired to 4 bits of port D, then through 330 ohms to ground.
Saves parameters in eeprom: The parameter is saved in eeprom for each button push.
The button mapping (port C) is:

Button 0: voice 1 tempo
Button 1: voice 2 tempo
Button 2: voice 1 transition matrix
Button 3: voice 2 transition matrix
Button 4: voice 1 beat pattern
Button 5: voice 2 beat pattern
Button 6: voice 1 timbre
Button 7: voice 2 timbre

Uses a DAC rather than PWM output: The software to produce the waveform writes an 8-bit value to port B in an ISR at a fixed rate.
The DAC is a Bourns Inc. 4116R-R2R-253LF R2R resistor array.

- Bruce Land -
Electrical and Computer Engineering
Cornell University
---
This page transmitted using 100% recycled electrons.