Debounce State Machines
Our software design is divided into three distinct debounce state machines. Each machine controls separate functions of the keys of the keypad. While it is possible to combine the second state machine with the third, we have decided to separate the task for readability and less risk running into bugs.
Our keypad state machines utilize the basic structure of the debounce state machine that was used in the first lab of the semester. By adding a few new states, we are able to maneuver through the states well enough to run our tasks. Beside the regular four states ('maybePush', 'Pushed', 'maybeNotPushed', 'noPush'), state 'Idle' is added to turn off the state machine when the state machine is not being used. State 'INIT' is a simple preliminary state to initialize character arrays and flags back to its original values before starting a new cycle of debouncing. Finally, one last new state is state 'recorded'. This state is added to avoid recording the keypad button pushed more than once if a 'slow' user presses the buttons for a long period of time.
We design 3 state machines for our graphing calculator module. State machine 1 and 2 will be used for scientific mode and state machine 1 and 3 will be used during graphing mode. The general diagram of the state machines is as follows: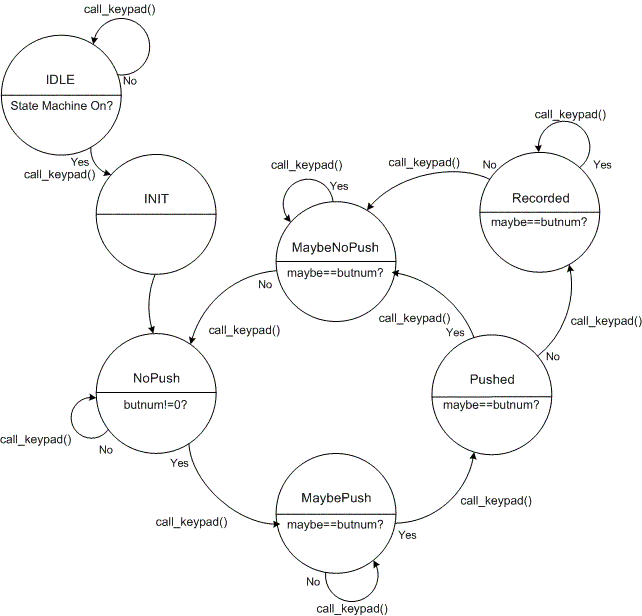 Click on figure for larger picture


From one state to another, a function called call_keypad() must be called to poll user's input during that frame cycle time. This program is taken from ECE476 website and has been provided for us for lab 5.