Introduction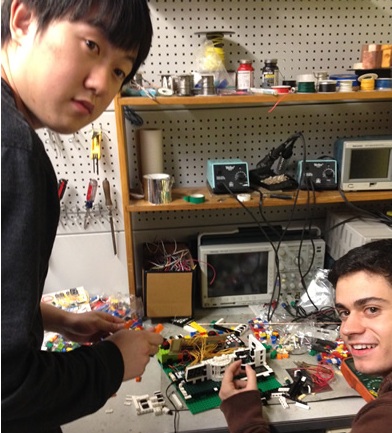 The variability of a college student's class and school work schedule gives way to an abnormal sleep/wake pattern that is not experienced any other age group. Few lucky students have the pleasure of having all their classes start at the same time every day. However, most students do not have this luxury. This requires that most students reset their alarm clocks every night in to adjust to each day's different schedule. Forgetting to reset the clock could result in sleeping through classes, or unexpected wake-ups hours before classes start. This abnormal schedule disrupts your circadian rhythm and makes it increasingly difficult to get out of bed in the morning. For some it leads to snoozing your way through morning classes.
We have created a new type of alarm clock that will have a built in record of your weekly schedule so that it may wake you up at the right time, every time, every day. Our alarm clock will includes extra features that improve on the shortcommings of current alarm clock designs.
Features Introduction
Even chronic snoozers will have no excuse for sleeping through another class again. Each of the daily alarms will include a feature that indicates a priority for the wake up time. For example, a student may give waking up on Monday morning for class a high priority, while giving waking up for a Saturday morning jog a low priority.
The different priorities will determine how hard it is to disable the alarm. High priority alarms will be louder and annoyingly difficult to reset. This will ensure that the user is well awake before the alarm can be silenced. In contrast, a low priority alarm can be snoozed or disabled with the single press of a button.
The backlight LCD display will inform the user of the day of the week and the date. It will also display the next upcoming alarm to the user. The calendar feature of the clock automatically compensates for leap years. The alarm also features a ambient light controller that will make sure that the seven segment LED display is always an appropriate brightness.
UP