Hardware Design
Our implementation of Jezzball used two MCU's, one to connect to the TV, and another to the mouse. They communicated with each other using the SPI. The overall circuit diagram is found in our Appendix.
Television Hardware
The TV setup is the same as in our video game lab. We used PORTD.5 for generating the sync signal, PORTD.6 for the video signal and PORTB.3 for input of sound into the TV. The two video signals are summed together in the following manner: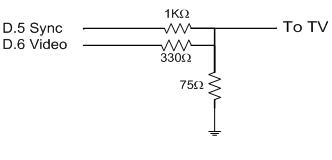 The Input to the TV is through standard RCA connectors with one end stripped to allow us to connect directly to the lines.
Mouse Hardware
To control the game, we used a PS/2 optical mouse. The mouse is connected to our MCU by way of a PS/2 connector that we scrounged up from a previous year's project. The mouse and connector have the following pin outs:

Figure taken from: http://www.computer-engineering.org/ps2protocol/
We connected the data line to PORTA.0 and the clock signal to PORTA.1 and powered the mouse with the MCU power. Communication with the mouse is done by sending back and forth data packets. The mouse MCU sends packets of 12 bits: 1 start bit, 8 data bits, 1 parity bit, 1 stop bit, and 1 acknowledge bit. The mouse sends packets of 11 bits, including all the bits mentioned earlier, minus the acknowledge bit. When the mouse sends data, it sends 3 bytes of data seen below.

Figure taken from: http://www.computer-engineering.org/ps2mouse/
The x-direction and y-direction is encoded using 9 bits in two's-complement notation. We initialize the mouse by resetting it. This entails sending to the mouse 0xFF, then reading the acknowledge from the mouse (0xFA). We then send the mouse to remote mode by sending 0xF0, and again reading the acknowledge from the mouse. The remote mode is used so the mouse only sends data when requested by the MCU sending a 0xEB byte to the mouse. We then pull the clock low for 100ms to inhibit any transmission.
To request data from the mouse, we send the mouse the request byte. We then wait for the acknowledgement followed by the three data bytes, which we convert to the x and y-directions and the mouse button status. This procedure is explained in the Software Design section.
Further restrictions on mouse timing, as well as a step by step implementation procedure can be found at the mouse protocol website found in our references.