Despite the fact that we are processing and analyzing data in real time, the FWT analysis and summary were produced instantaneously after the release of the yellow button. There are no known errors associated with controlling the MCU operation via both PuTTY and the physical button panel. Even when 2 buttons are pressed at the same time, the system will sequentially execute the valid commands.
Here are some screen shots of our system during operation:
When the system is turned on, our MCU automatically enters the default testing mode. At the same time, PuTTY will display a welcome screen informing the user that the system is ready to take inputs.

In the testing mode, the user is able to see the summary results of only saying 1 vowel. Audio input is processed when the user holds down the yellow button while speaking into the microphone. When the yellow button is released, the program will automatically compute the FWT and display the prediction in PuTTY.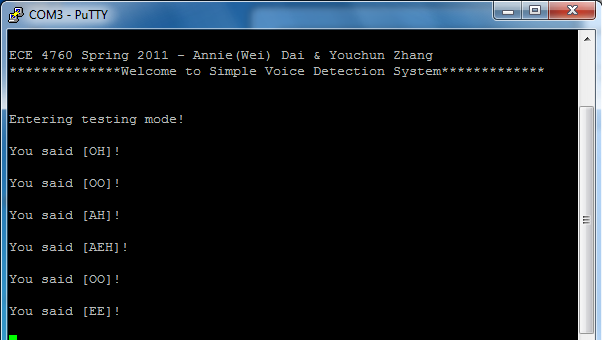 To leave testing mode, the user can just press and release the red button once. As shown below, PuTTY shows that the program has exited testing mode and entered the decoding mode.
In the decoding mode, the user can set a sequence of 5 vowels as the system password and repeat the same sequence via the microphone while holding down the yellow record button.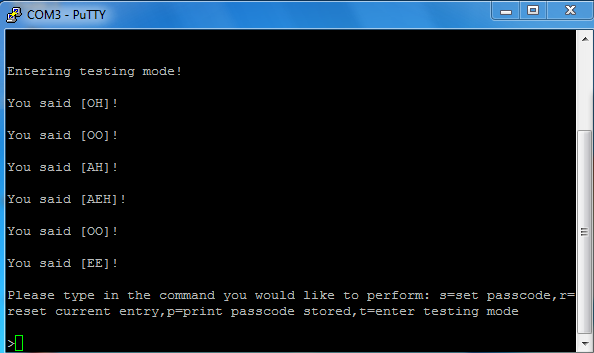 If the user accidently entered the reset command before setting a password, the system will inform the user that there is no valid password being stored at the time. The user should set the password first by entering 's' to the command line.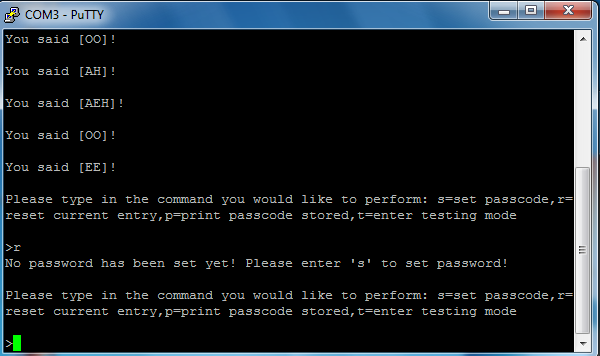 New password is entered by inputting the vowel sequence with commas separating each vowel input. Once entered, the system will display the entered result and automatically enter recording mode where the MCU simply waits for user's audio input.

If the input audio sequence agrees with the stored password, then the congratulations screen will appear along with the secret message.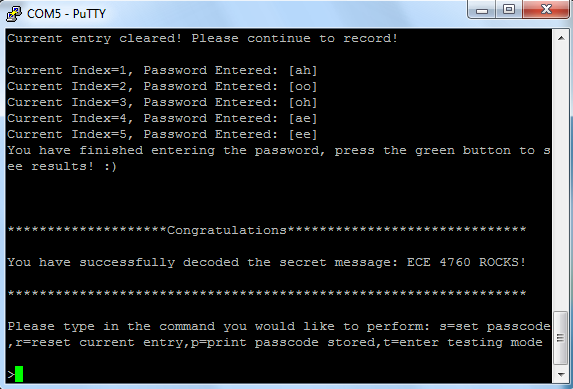 Anytime there is a command prompt at PuTTY, the user can choose to reset his/her current audio input by entering 'r'. This erases all of the audio inputs stored so far in the system and allows the user to re-record the password again.
Anytime there is a command prompt at PuTTY, the user can see the stored system password by entering 'p' for print. The system will display the entered vowel sequence.

The user can reenter testing mode from decoding mode by entering 't' at the PuTTY command line.

Here are 2 videos demonstrating our system at work