Cornell University ECE4760
Direct Memory Access
PIC32MX250F128B

DMA on PIC32
DMA uses memory controllers separate from the CPU to accelerate data movment between memory locations, or between peripherials and memory. The PIC32 has 4 DMA controllers which can stream an agregate of about 3.2 megabytes/sec without affecting CPU performance, in many cases. There are a huge number of options available to set up a DMA transfer. You can think of a DMA channel controller as a separate, programmable, processor with the main job of moving data. Memory on the PIC32MX series is arranged as a bus matrix with five memory bus control masters and three memory bus targets accessed by the masters see (Refence Manual chapter 3, section 3.5).

You can think of a DMA channel as separate hardware for doing a very flexible memory copy operation, triggered by any hardware event. Since peripherial data registers (e.g. ADC, SPI, timers) are memory-mapped, data can be moved to/from any peripherial to memory. Since the peripherial control registers are memory mapped, any peripherial can be used to control another peripherial, although a serial DMA machine or DMA channel chaining may be necessary to do carry out some operations. If a peripherial generates a hardware event (interrupt request) then controlling another peripherial can be done with one DMA operation. For instance, the existing PIC32 hardware allows you to trigger an ADC conversion from timer 3, but not timers 1, 2, 4, or 5. Using DMA you could trigger from any timer using no ISR and zero CPU cycles. More on this lower in the page.
The following material may help in understanding DMA (simplified from Reference Manual chapter 31).
Figure 31-2 shows the conceptual layout of the cpu and DMA.
The cpu instruction and data masters as well at the DMA controller can each initiate data moves in
program flash memory, data ram, and peripheral register targets. (e.g. RAM to i/o port, or ADC to RAM, or flash to DAC)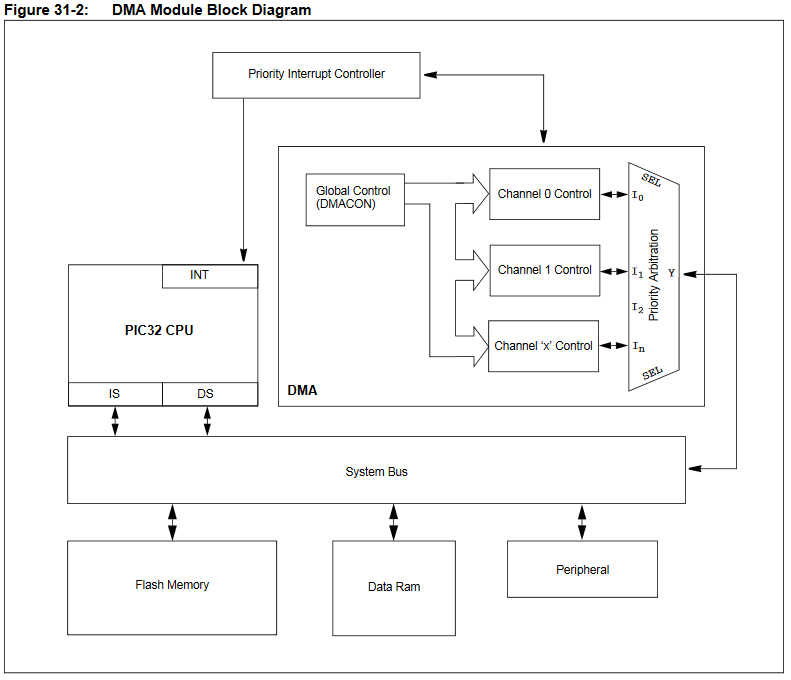 Terminology for operational modes of the DMA Controller:
• Event -- Any system event that can initiate or abort a DMA transfer.
Any interrupt source can act as a DMA event -- but does not require that the interrupt be taken.
For a list of interrupt source names, open this and search for /* IRQ Numbers */
• Transaction -- A single word transfer (up to 4 bytes), consisting of read and write operations
• Cell Transfer -- The data transferred when a DMA channel has a transfer initiated by an single event.
The channel then waits for another event.
A cell transfer is comprised of one or more transactions.
Max cell size is 65,535 bytes transferred on an event.
• Block Transfer -- All of the data transferred when a channel is enabled.
A block transfer is comprised of one or more cell transfers.
Max block size is 65,535 bytes.
The channel remains enabled until the DMA channel has transferred the larger of source or destination sizes (i.e., block transfer is complete).
If auto-enable is turned on, then the block transfer repeats.
When the channel is disabled, further transfers will be prohibited until the channel is re-enabled.
DMA operating modes:
• Basic Transfer mode -- Copy memory to memory (but note that SFR are memory mapped so any peripheral can be read/written)
For example: ADC to RAM can be enabled to send data at a rate determined by a timer, but with NO ISR.
Timer3 triggers ADC directly (no ISR), then the ADC complete signal triggers a cell-transfer on a DMA channel with a RAM target.
• Pattern Match mode -- Copy memory to memory until a bit-match occurs between the transfered data and a template.
For example: copy a character array (string) to the USART until a NULL byte (end-of-string) is detected.
• Channel Chaining mode -- The end of one DMA channel operation triggers another DMA channel.
For example: Use DMA channel 0 ADC to RAM buffer 0 for FFT,
then chain to channel 1 to record ADC to RAM buffer 1 without missing an ADC sample,
then chain back to channel 0 when buffer 1 is full.
• Channel Auto-Enable mode -- Hardware auto-looping over the source/destination memory locations.
Block transfer complete, or pattern match detect conditions do not disable the channel.
• Special Function Module (SFM) mode: Byte/bit reordering and LFSR CRC -- Cyclic redundacy check during a transfer. (see Chapter 31, section 31.3.5)
More details are in one of the examples below.

These operation modes are not mutually exclusive, but can be simultaneously operational.
For example, the DMA controller can perform CRC calculation, using chained channels, and terminating the transfer upon a pattern match.
A cell transfer is initiated in one of two ways:
• Software can initiate a cell transfer, but don't do this. If you use software to start every cell transfer, you are mostly defeating the benefits of DMA.
HOWEVER: Software can be used to initiate a block transfer. For long blocks, like sounds or strings, this is an efficient use of the CPU.
The protothreads routine PT_DMA_PutSerialBuffer starts a block transfer by enabling a DMA channel.
Each cell transfer after the first one is triggered by a USART empty event.
See protohreads header code, in the code search for #ifdef use_uart_serial
• Interrupt event occurs on the device that matches the start intrrupt source selected for the DMA channel, but with no ISR. The user can select any interrupt on the device to start a DMA cell transfer. The DMA Controller maintains its own flags for detecting the start and abort IRQ in the system and is completely independent of the INT Controller. The corresponding IRQ does not have to be enabled before a transfer can take place, nor cleared at the end of a DMA transfer. After the start or abort IRQ system events are triggered, they will be detected automatically by the DMA controller internal logic, without the need for user intervention.
A DMA transfer can be stopped by:
• Manually writing the channel abort command.
• A pattern match occurs, assuming pattern match is enabled, and provided that Channel Auto-Enable mode bit is not set.
A pattern match is treated the same way as a block transfer complete,
• Interrupt event occurs on the device that matches the selected channel abort event source.
• Detection of an address error
• A block transfer completes and the Channel Auto-Enable mode is not set.
DMA generated interrupts
• Error interrupts. This event occurs when there is an address error occurred during the channel transfer operation.
• Abort interrupts. This event occurs when a DMA channel transfer gets aborted because of a system interrupt matching the selected event, and when the abort interrupt request is enabled.
• Block complete interrupts. This event occurs when a DMA channel block transfer is completed.
• Cell complete interrupts. This event occurs when a DMA channel cell transfer is completed.
• Source Address Pointer activity interrupts. Either when the Channel Source Pointer reached the end of the source, or when the Channel Source Pointer reached midpoint of the source.
• Destination Address Pointer activity interrupts. Either when the Channel Destination Pointer reached the end of the destination, or when the Channel Destination Pointer
reached midpoint of the destination.
Channel Control Events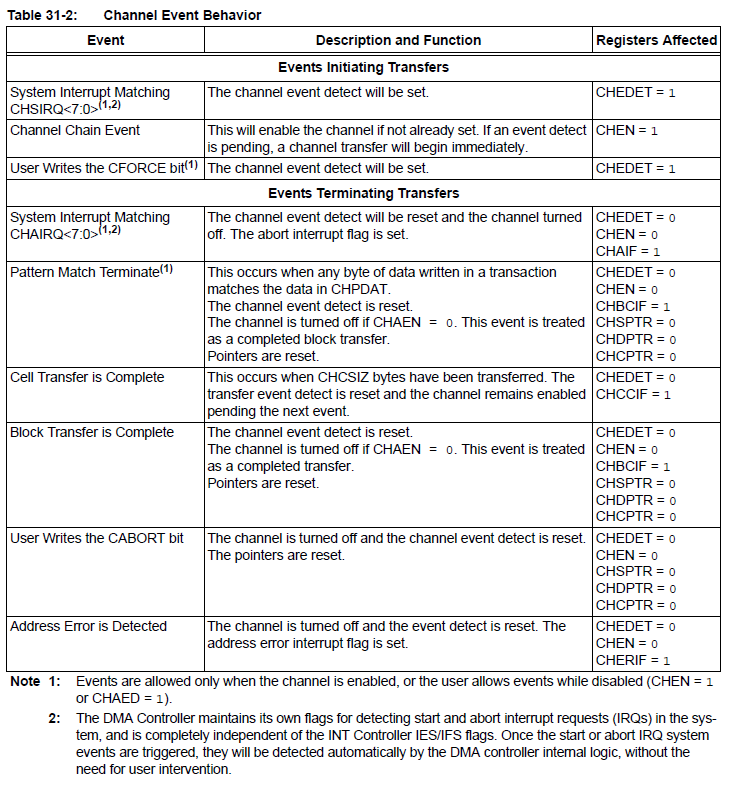 Examples
---
Using the CRC LFSR module to generate noise:
The DMA system can insert a hardware linear-feedback shift register (LFSR) into any one DMA channel.
The usual use would be to weakly encrypt data or produce a cyclic-redundancy checksum (CRC), but it can
also be used to generate a sequence of 16-bit pseudorandom numbers, perhaps to use as a sound effect.
The SFM can reorder bytes, and/or run a LFSR on the PIC32MX2xx.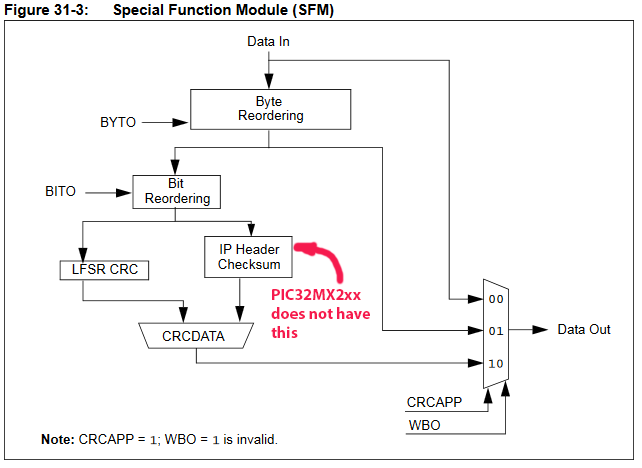 The LFSR CRC generator part of the SFM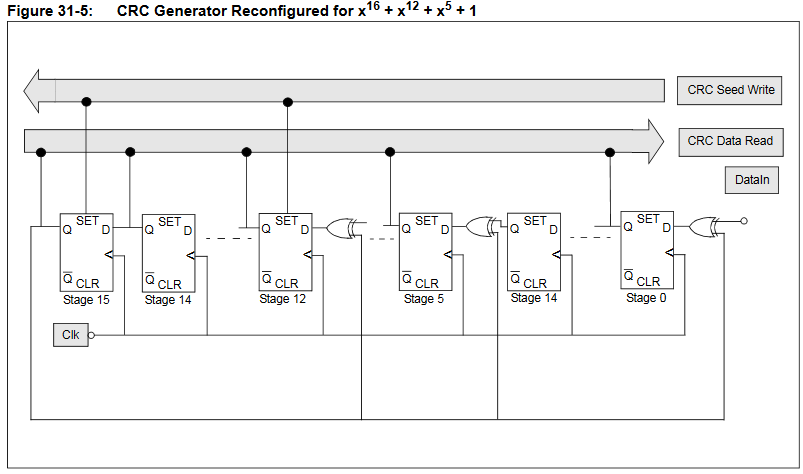 To set up the LFSR you need to configure a DMA channel, then add these statements.
// set up the LFSR
// void mCrcConfigure(int polynomial, int pLen, int seed);
// Arguments:
// polynomial; The generator polynomial used for the CRC calculation.
// pLen; the length of the CRC generator polynomial.
// seed; the initial seed of the CRC generator.
// max lengtth 16,15,13,4,1 0xa010 --- 0x1120 also sounds good
DmaCrcConfigure(0xa010, 16, 0xffff);
// send the data thru
#define appendMode 1
CrcAttachChannel(dmaChn, appendMode);
DmaCrcEnable(1);
The DMA transfer should be set up to feed a constant into the channel at a rate chosen by a timer event.
The output will clearly need to go to a DAC of some sort.


---
OLDER (obsolete) DMA Examples (Also see Instrumentation using DMA by Syed Tahmid Mahbub and Bruce Land)
---
References:

Beginner's Guide to Programming the PIC32 Paperback by Thomas Kibalo
and more info
Programming 32-bit Microcontrollers in C: Exploring the PIC32 by Lucio Di Jasio
and more info
PIC32 Architecture and Programming by Johm Loomis Numb3rs
UMass M5 PIC32 tutorials and specifically for the PIC32MX220
Northwestern University mechatronics design wiki:

DSP experiments and more and
RTOS

MIPS32 docs

Microchip Docs

External Refs back to this work
---
Copyright Cornell University February 26, 2020